The Congress Bureau Meetagain has negotiated favorable room prices and reserved rooms for SSI 2017 participants in a number of city center hotels. The reservations will be made on "first come, first served" basis. Please note that the hotel quotas are valid until one month before the meeting. After that, we cannot guarantee the availability of the hotel rooms but will assist you in finding accommodation. The hotel fees include breakfast, service and VAT. All hotel fees are payable directly to the hotels.

Please mark your hotel reservation on the meeting registration form (available from 4 April). Your reservation will be confirmed together with your participation.
Any changes in regards to the accommodation reservation have to be sent to the Congress Bureau Meetagain. Email: ssi2017@meetagain.se.

Below is a short presentation of the hotels.
Clarion Hotel Sign
(SSI 2017 meeting venue)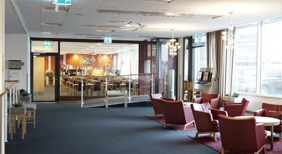 First Hotel Kungsbron is ideally located in central Stockholm, just two minutes from Stockholm Central Station and the meeting venue.
Address: Västra Järnvägsgatan 17, Stockholm, Sverige

Singel room (no window): SEK 1080
Double room (no window): SEK 1280

Singel room (window): SEK 1280
Double room (window): SEK 1480
Scandic Hotel Norra Bantorget